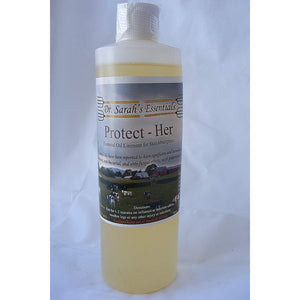 Dr. Sarah's Essentials - Protect-Her Liniment - 16oz
Regular price
$15.00
Sale price
$22.00
Size: 16oz
Description: Protect-Her is an Essential Oil Liniment for Skin Absorption.
Directions: Rub for 1-2 minutes on inflamed or infection udders, swollen legs or any other injury or infections.
Ingredients: Castor Oil, Organic Olive Oil, Grapeseed Oil, Sweet Almond Oil, Safflower Oil. Essential oils of: Camphor, Cinnamon, Clove Bud, Eucalyptus, Ginger, Oregano, Peppermint, Pine Needle, Rosemary, Sage, Tea Tree, Thyme and Wintergreen. Vitamin E Oil.
Please Shake Well before use.   Essential oils like to seperate in solution and failure to mix well before use can cause solution to be too potent.
---
More from this collection