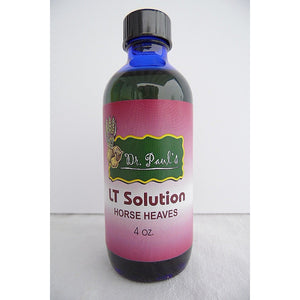 Dr. Paul's Lab - LT Solution Tincture - 4 oz
Regular price
$33.00
$0.00
Size: 4 oz
Description: Dr. Paul's LT Solution is a high quality tincture made from organic or wild harvested plants without any prohibited substances. Dr. Tom uses this tincture twice a day at 3 cc each for coughing and pneumonia animals. This is a very important part of treatment for respiratory infections. Tincture is standardized for content. This tincture is bottled in an 4 ounce amber glass jar to preserve the integrity of the product.
Directions: Administer 1 cc to 3 cc orally two to three times a day.
Ingredients: Lobelia, Slippery Elm, and Fenugreek.
---
More from this collection