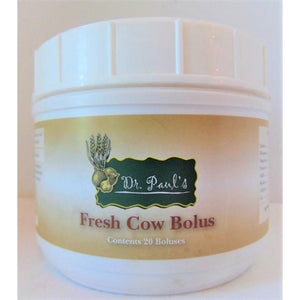 Dr. Paul's Lab - Fresh Cow Bolus - 20 ct
Regular price
$41.75
$0.00
Size: 20 Count
Description: Dr. Tom uses these boluses in cows with retained placentas in the first day after calving. He will infuse an Aloe Vera juice/water mixture into the uterus after doing this. It is extremely important to be very clean and gentle if going into a uterus. If you are doing this, have your veterinarian show you how to do it properly. Dr. Tom has seen many situations made worse by improper techniques.
Directions: Administer 2 boluses initially, repeat with 1 to 2 boluses every 12 hours as needed.
Ingredients: Sodium Bicarbonate, Garlic, Aloe, and Vitamin C.
---
More from this collection