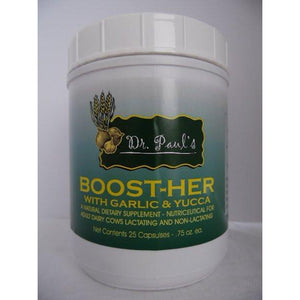 Dr. Paul's Lab - Boost-Her Boluses - 25 ct
Regular price
$48.35
$0.00
Size: 25 Count
Description: A natural dietary supplement for dairy cows containing vitamins, minerals, and botanical blend in a 1.5 oz. bolus. Cows around the calving interval need calcium and are benefited by probiotics and extra nutritional supplementation. This product provides a very available source of calcium that is not caustic. Recommendation: if more calcium is needed Downer Cow Boluses can be used in addition.
Directions: 2 boluses twice daily for 2 to 3 days or as needed, no drug residues.
Ingredients: Niacin, Riboflavin, Folic Acid, Biotin, Thiamine Mononitrate, Pyridoxine, Hydrochloride, Brewers Dried Yeast, Hydrated Sodium Calcium Aluminosilicate Garlic Bulb, and Yucca Root.
---
More from this collection